A religious edifice in the Province of Tarlac, where the shrine of the sacred Relic of the True Cross is located, and cited by the Department of Tourism (DOT) as one of the places to go this coming Holy Week.

The Monasterio de Tarlac in Barangay Lubigan in San Jose, Tarlac as the most revered pilgrimage site in Central Luzon on account of its spiritual prominence.

The site is one of the center of spirituality this coming Holy Week. It is here where The Church of the Risen Christ, which houses silver reliquary where the authentic fragment of the Wooden Cross, is located.

The church is under the ministerial care of the Servants of the Risen Christ, a monastic congregation led by its Prior, Frater Ronald Thomas "Archie" Cortez. The religious brothers, or Frater to the Catholic community, are clothed with a divine vow to live a life of monasticism and contemplation.
It was in 2005 when Msgr. Volker Bauer from Germany during the World Youth Day celebration offered to give to Prior Cortez the sacred relic long after the churches in Europe underwent radical transformation due to the advent of communism and were being closed down to give way to museums and warehouses.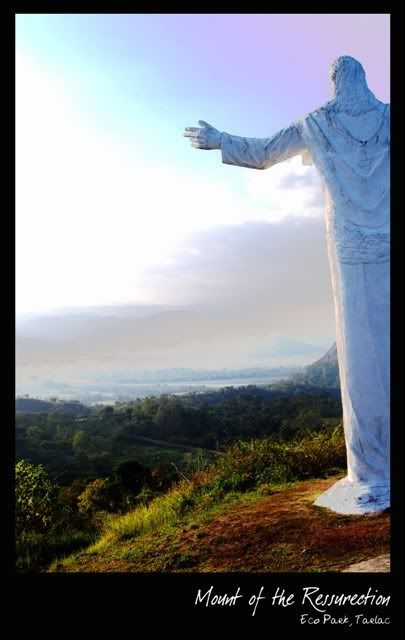 And on Jan. 29, 2007, Bauer flew in with the relic and brought it first to Clark in Pampanga and finally to the monasterio in Tarlac for dedication. The historic event was conducted by the Papal Nuncio to the Philippines, Most Rev. Fernando Filoni, Tarlac Bishop Florentino Cinense, and members of the clergy.

The reliquary is known to be the only one in the entire Asia.





MORE PHOTOS HERE!


The veneration of the True Cross finds its origin in the legend of Helena. According to Christian tradition, when Emperor Constantine granted religious freedom to Christians in the Roman Empire in 313 A.D., his mother Queen Helena, later in 326 A.D., made pilgrimage to the Holy Land to locate those places sacred to Christians and find the Cross of Jesus.

With the help of Christians there, she found many places where Jesus lived, and carried out his ministry.

Queen Helena had churches built in many of these sacred sites like the Tomb of the Holy Sepulchre, the Calvary, and the Nativity, among others.

She also found the True Cross, buried under a pagan temple, the nails, and the title that was affixed to the Cross.

She is said to have verified the true cross among the three that were unearthed through miracles (a dead girl was restored to life when touched by the True Cross). She left part of the Cross in Jerusalem, gave part to her son in Constantinople, and took part back to Rome where the Church of the Holy Cross of Jerusalem was built.

Pieces of the Cross were venerated as holy relics and fragments were given as gifts to many churches in Europe.

The sprawling monastery with dormitory and viewing decks offers a commanding view of the mountainous terrain of the towns of Tarlac nearby and the imposing 30-feet Statue of the Risen Christ.

The 278-hectare Tarlac Ecotourism Park, where the moasterio is located, was developed by Former Governor turn Congressman Jose "Aping" Yap as his legacy to Tarlaquenos. Visitors are attracted to the place on account of its cool mountain air, presence of natural springs, flora and wildlife, and outdoor living activities.

How to Get There

From Manila, take North Luzon Expressway (Nlex), exit at Sta. Ines Toll Plaza in Mabalacat, Pampanga. Proceed north to Tarlac City. Upon reaching Barangay San Sebastian (Hon Kee Tea House), take a left turn to the bypass road (Tarlac-Pangasinan) towards the town of Camiling. Follow the 36-kilometer backcountry but well-paved road to Barangay Lubigan in San Jose, Tarlac.

For more information, contact Frater Thomas Mary Lawrence at mobile no. 0917-9328738 or e-mail monasteriotarlac@yahoo.com.
www.tarlacmonastery.com

[Photos via Monasterio de tarlac]